Bio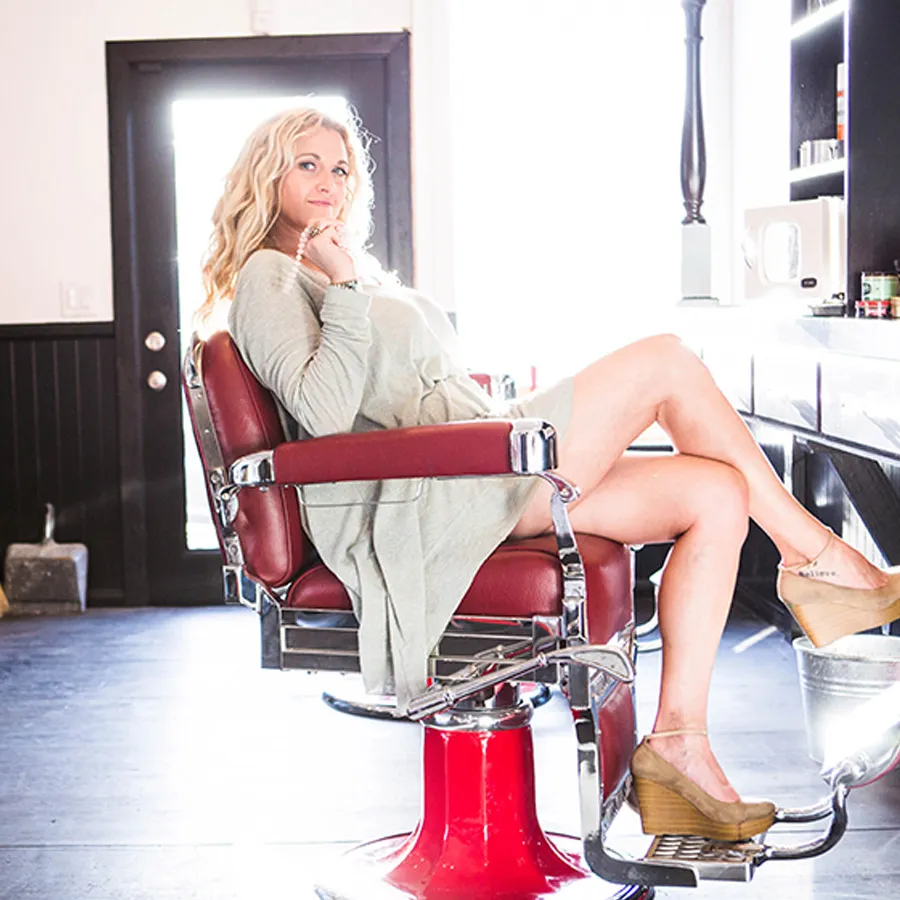 Born and raised in Oklahoma, you can't help but hear and feel Kinnie's roots in her voice and music. She's a country girl at heart, but couldn't wait to grow up and get out to see the world. After graduating with her Bachelor's in Musical Theater from Oklahoma City University, she moved to New York City where she immediately started touring the country with Broadway shows. She absolutely loved traveling the country, but the theater life never sat right with her. She left the life of touring and theater after 5 years, having done 4 national tours and visiting 48 states.
Kinnie went in a completely different direction with her life and started teaching for Imagine Swimming, a prominent swim school in NYC. She helped to write their Baby Swim program that utilized song to comfort young infants in the water. When she wasn't teaching, she was singing backup vocals and gently 'managing' a friend's band. Over the years she gradually taught less and less and was doing more and more for the band. At the end of 2010, she taught her final classes and once again found herself pursuing music full-time. She and her friends purchased a van off of Craigslist and decided to travel and sing their way across the country to San Diego. The majority of 2011 she was living in a van with her two bandmates and busking. They met a lot of people and sang a lot of songs. Through the kindness of strangers and their beautiful harmonies they managed to start new lives on the west coast.
After 5 years with the band, Kinnie decided it was time to venture out on her own. Since leaving the band in January 2016, Kinnie has done big things. Her first full-length album, LIVE, was recorded in Encinitas at UNIV. In just three days, she and some of the best players in San Diego, laid down 12 tracks – all live takes. It was an exciting and new experience for Kinnie to create a completely live album. There was no "studio magic," no "cut & paste." The take was great and used, or it wasn't. Simple, easy, old-school. She wanted her voice and the songs to speak for themselves. They were also able to record some older cover songs to share the depth and range of her vocal stylings.
Experience & Awards
EXPERIENCE
Queen Bee - Master Teacher 
Feb 2019 - Present 
BugByte Studios 
Online-based voice studio. Roster of over 500 clients. Manage teachers. New client placement. 
Singer 
Apr 2008 - Jun 2008 
If This Hat Could Talk National Tour 
Role - Eleanor Roosevelt 
Singer 
Mar 2007 - Aug 2007 
Forever Swing National Tour 
Singer 
Jan 2006 - Mar 2006 
Beaty and Beast National Tour 
Equity Tour featured at The Aladdin Theater in Las Vegas 
Singer 
Sep 2003 - Jun 2004 
Seussical the Musical National Tour 
Role - Birdgirl Understudy - Mayzie La Bird 
Education 
Bachelor of Music - Music Theater (BMMT) 
Aug 1999 - May 2003 
Oklahoma City University 
certification 
BugByte Studios Level 4 Teaching 
Sep 2022 
BugByte Studios 
Reliable, sustainable mixed voice Knowledge of vocal anatomy Formants and and understand of vowel shapes Stylization Diction Whistle Tone Vocal Fry Arpeggios & rhythmic styling for accompaniment Multitrack recording Microphone placement Diagnosing of vocal performance assets & pain points The "singer's lifestyle" 
BugByte Studios Level 3 Teaching 
Sep 2021 
BugByte Studios 
Putting together a home studio Using audio interfaces Tracking in a DAW. Mic technique and audio effects Creating mindful setlists/playlists Warming up & cooling down. Rest days & restorative practice. Writing lyrics, chords and melodies Song form, arrangement & building dynamics Flow state, and the performance mindset Presence and the "alter ego" effect Full set performance or recording project 
BugByte Studios Level 2 Teaching 
Sep 2020 
BugByte Studios 
Ad libbing & improvisation Riffing Building Major and Minor chords on piano and by ear Build out repertoire with songs in I, IV, V, vi patterns Transposing on piano, uke and/or guitar (using capo or transpose button) Singing up & down a half step for any song Finding the perfect key for your voice. Flipping into falsetto/ extending range How to get yourself to practice at least 60 min per day, 4 days a week. Healing the voice Register recognition Working "mixed voice" 
BugByte Studios Level 1 Teaching 
Sep 2019 
BugByte Studios 
Practice routine Water routine Matching pitch/ Long tones Holding back air- Straws/Ssss What is singing "Full Voice"? How often should I sing? Lip trills to any melody Notes on Piano Listening for beats in tuning. Color vs. Pitch Practicing in public Differentiating between major and minor keys by ear. Sing a major scale from any starting point in solfege. 
Yin Yoga - 40 hour Certification 
Jan 2017 
CorePower Yoga 
Long Postures Breath Technique Prop Assistance Meditation Guidance 
RYT - 200 hours (Hot Power Fusion) 
Dec 2016 
CorePower Yoga 
Postures Breath Technique Structural Anatomy of the Body Hot Room Practice and Safety Protocols 
RYT - 200 hours (Vinyasa Flow) 
Apr 2016 
CorePower Yoga 
Posters Breath Technique Structural Anatomy of the Body 
award 
Woman of the Year (Nomination) 
Oct 2017 
San Diego Magazine 
affiliation 
Yoga Alliance 
Mar 2016 
Yoga Alliance is the largest nonprofit association representing the yoga community. Our mission is to spread the power of yoga one person at a time. We believe that the individual experience of yoga is of paramount importance, and are committed to supporting the passage of yoga from trainer to teacher, teacher to student, and student to aspiring yogi. Our role as the national support organization for the yoga community is to ensure that the practice of yoga will keep growing, so that more people will connect with yoga and be transformed. As an organization we keep several core values at heart: service, excellence, transparency, learning and community. 
ASCAP 
Jun 2012 
ASCAP is a membership association of more than 625,000 songwriters, composers and music publishers. We uphold the value of our members' music, and help them thrive alongside the businesses that use their music every day. 
BMI 
Jun 2012 
Broadcast Music Inc. was founded in 1939 by forward-thinkers who wanted to represent songwriters in emerging genres, like jazz, blues and country, and protect the public performances of their music. Operating on a non-profit-making basis, BMI is now the largest music rights organization in the U.S. and is still nurturing new talent and new music.